The buyer of each apartment will receive tickets to Milan and an opportunity to sit down with the iconic designer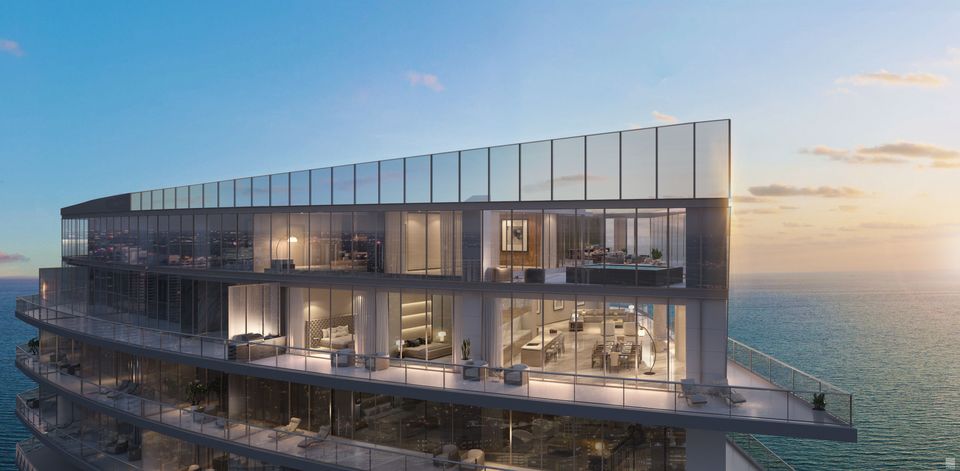 New renderings of two Giorgio Armani-designed penthouses at the Residences by Armani/Casa in Sunny Isles Beach, Florida, have been released exclusively for Mansion Global on Wednesday.
The 308-unit glass tower, designed by César Pelli of Pelli Clarke Pelli architects, is "iconic," Gil Dezer, president of Dezer Development, the company that developed the Residences by Armani/Casa, said. "Elegant, yet masculine," as it grows wider in form from base to top.
At the top of the tower sits a 5,968-square-foot north-facing penthouse, priced at $17 million, and a 5,375-square-foot south-facing penthouse, priced at $14 million, both being sold through the developer. Both penthouses comprise five bedrooms and 6.5 bathrooms, and include rooftop terrace space with a private pool.
The collaborative process between the Armani Design Studio and the developers, Dezer Developments and The Related Group, are ongoing, from interior fittings everyday to marketing strategies, Mr. Dezer said.
"We deliver the apartments as what we call 'decorator-ready'," Mr. Dezer said. The penthouses will include finished Dada kitchens with Armani Roca faucets and sinks in the bathrooms and kitchens. But other than that, white walls and unfinished floors, Mr. Dezer said. Both sales will also include two first-class tickets to Milan, where the buyer will have the opportunity to sit down with Giorgio Armani and design the floors, walls and finishes.
On a trip abroad in Dubai, Mr. Dezer said he was inspired by the Armani-designed interiors of the Burj Khalifa Tower and "wanted to bring that to the U.S." The Residences by Armani/Casa was developed by Dezer Development in partnership with The Related Group.
Now more than 80% sold, the building is slated for completion this November and has already generated over $800 million in sales, according to a news release. Unit sales launched in January 2016.
The building is mainly for second-home owners, Mr. Dezer said, much like his other development in Sunny Isles Beach, the Porsche Design Tower, which opened in March 2017.
Mr. Dezer said that the Porsche Design Tower's restaurant chef is the most popular guy in the building's community, and they are planning to create a very similar atmosphere at the Residence by Armani/Casa. "But maybe at Armani the bartender will be the most popular guy," he added.